On a mid-April morning Lee Marraccini is in his element, talking about his work in his shop, Angelo Jewelry, which he opened in 1998 in the old Michie Building on the downtown mall in Charlottesville, Virginia. Wearing gloves with their tips cut off, Marraccini shows off a ring featuring handcarved mother of pearl with eighteen karat gold and silver and diamond accents. The piece is stunning in its simplicity and depth—like the jewelry equivalent of Venus on a half shell.
The ring is a part of Marraccini's latest collection, which he has been developing over the past two years. The mother of pearl came from his wife, Pam Perugi Marraccini's grandfather's collection of materials. From Carrara, Italy, one of the marble centers of the world, stone sculptor Araldo Perugi came to America in the early 1900s. He worked on a number of projects in the northeast. One of the altars at St. Patrick's Cathedral in New York City is inlaid with the same mother of pearl that forms the foundation for this new collection.
Marraccini points to its unusual thickness: "The shell creature must have been really big," he surmises. He discovered that he could carve into it and not lose the pearlescent quality of the surface. He has made bracelets, pendants and other ornaments from these remnants of Araldo's altarwork.
Turning to a set of chrysoprase earrings with sapphire accents, Marraccini points out how they have great movement. He carved the warm green mineral stone into matching ovals, setting them off in scroll frames. He prides himself on an exceptional ability to shape stones on a wheel. That special talent has led to jewelry that is warm, clean, linear—and playful.
Marraccini has just returned from the American Craft Council show in St. Paul, Minnesota, which he feels is one of the most creative in the country. He enjoys meeting local artists from the greater St. Paul/Minneapolis area whom he does not see at other shows. "It's good to see younger people coming back into the trade," he states.
One of the artist's favorite gatherings is the American Gem Trade Association (AGTA) GemFair held every winter in Tucson, Arizona. As a "serious rock fanatic," Marraccini can satisfy his jones for stones in a major way. "You usually end up buying something you weren't planning on buying," he says, "but it always works out." He describes the expanse of the show with awe, the way the fair spills out from the convention center into the streets. "You can get anything from a twenty-five-cent pyrite to a piece of fossilized tree," he reports, adding, "The hard part is not spending money."
The show, Marraccini has found, is a "kick starter" for design. "You come across a stone you've never seen before or an abundance of a stone you weren't able to obtain in the past." Several of his lines have started with Tucson finds. About ten years ago, for example, he started working with natural surface lines, picking out stones whose surfaces he could highlight without cutting. The Dolce series was born. "The Tucson show was key," he says, "because I could find rough stones."
Looking at a bracelet from the Dolce collection in one of the cases in his shop, Marraccini lists the six natural stones in the line-up: aqua, peridot, amethyst, citrine, tourmaline, and garnet. The stones have been laid over mother of pearl. "You can see the juiciness of the piece—that's why I call it dolce, it's sweet like rock candy." He notes that to create such a piece you need to have a level surface, but enough saturation of color. "It can't be too translucent," he explains.
While recognizing that the work and travel that goes into participating in fairs may not always bear the financial rewards he seeks, Marraccini loves meeting up with close friends to talk art and business. These trips also double as scouting expeditions. His shop in Charlottesville carries the jewelry of more than twenty artists, offering a wide-ranging showcase of contemporary jewelry design from across the U.S. Featured jewelers include Belle Brooke, Reiko Ishiyama, Paul Morelli, Judith Neugebauer, Jayne Redman, Bree Richey, and David Urso. The work of several Charlottesville-area artists is also on display, including that of Tavia Brown and Gabriel Orfiesh.
Marraccini's wife Pam is director of Angelo Jewelry. Her photographs of Italy are hung on the walls. She made a living as a wedding photographer, but gave it up after developing shoulder issues. Since the arrival of grandchildren, the couple has limited their travels to going "where they are." Daughter Marisa is a postdoctoral fellow in clinical psychology at the Warren Alpert Medical School of Brown University. Their son Marco works for an architecture firm in Culver City, California.
Marraccini and his son collaborated on the MarcoLee collection. They were interested in trying 3-D printing. With Marco's familiarity with the CAD design system, they were able to create a line of intricate and intriguing pieces. An eighteen karat yellow gold and oxidized sterling silver icosahedron pendant with turquoise and rubies brings to mind the designs of M.C. Escher. Marraccini uses a company in New Jersey to do the casting; "I send them the sketch, they send back the design; I tweak it and then they cast it." The process is expensive, but to get someone to carve it in wax is becoming increasingly difficult.
A lot of Marraccini's work remains hands-on, as a trip to his studio proves. Located in a line of brick buildings by the railroad track about a block or so behind his shop, the space is filled with the accoutrements of a full-blown jewelrymaking operation—benches, diamond saws, polishers, drawers of stones, stations for soldering and for other parts of the jewelrymaking process. On one table is an assortment of washers purchased from Hoover and Strong that Marraccini has incorporated into his work.
In speaking about the jewelry business, Marraccini traces the ups and downs. He began to see the beginning of a downturn in 2000 when several of the stores that carried his work closed. At the time, he had a bustling studio with as many as nine people working for him, plus a couple of apprentices. A series of setbacks, including having his jewelry stolen while at a fair in Winter Park, Florida, led him to begin paring down his operation.
Today, the team consists of Marraccini and Carol Rohmann Greene. He also lends space to jeweler Avery Groves who lives in nearby Afton, Virginia. While Marraccini misses his crew, which included an in-house caster, he continues to design like crazy, turning to a blackboard in the studio to work out new combinations.
"I'm really passionate about the jewelry I'm making now," Marraccini states, even as he acknowledges that the winds of commerce blow hot and cold. His store is doing well this year, which allows him to design more and continue to attend shows. He credits his wife with helping to turn the business around. He also does a "decent amount" of custom work and offers general repairs, resizing and laser welding, as well as inlay work.
Marraccini's journey began in 1947 in Monongahela, Pennsylvania, just south of Pittsburgh in the Monongahela River Valley. He grew up above Angelo's Bar, which was owned and run by his father, Angelo Marraccini. After his father passed away in 1959, his mother took over the bar "and kept it."
Marraccini graduated from Penn State in math education. He taught at the North Bethesda Junior High School. Not long after he married Pam, a third grade teacher, in 1972, she decided to take a class in pottery at an art studio in Washington, D.C. Wanting to accompany her through the dark city streets, Marraccini enrolled in the only other available class: jewelry. That is how he got started, learning the ropes from silversmith Dorothy K. Gordon, who specialized in hollowware.
Marraccini considers his "main talent" to be "designing by parts." Starting with sketches on the blackboard, he develops concepts for new pieces and watches them "metamorphose" through metal manipulation, fabrication, casting, and stone inlay.
In 1973, the Marraccinis took off in their van, outfitting it with a bed and camp stove. "You would call us hippies now," Marraccini notes, "but we didn't consider ourselves that back then." At one point they went to visit a friend in San Miguel de Allende in central Mexico and ended up staying for three months, taking courses at the Escuela de Bellas Artes, an art school housed in the cloister of a former convent. "For thirty-two dollars a month, you could take four full-time art classes," Marraccini recalls. Having never attended art school, he signed up for jewelry, drawing, guitar, and ballet. "Why not?" he thought at the time.
When things started to get a little crazy in Mexico, the pair returned to the East Coast. On their travels, they had met some friends who lived in West Virginia so they set up camp in Paw Paw, a small town located on a bend of the Potomac River "in the middle of nowhere." They took up organic gardening and barely survived.
It was at that point that Marraccini made his fateful decision: to figure out how to make jewelry that he wanted to make and that people would want to buy. He made a commitment to this vision, stuck with it, and began to gain traction. He launched Moondance Silver and began making the rounds of craft shows. Around this time, West Virginia was becoming "a little too wild." Floods and harsh weather, along with isolation, inspired the pair to seek out a new place to set down roots. Pam suggested Charlottesville; they moved there in 1984.
While much of his learning took place while residing in Paw Paw, Marraccini had some terrific teachers along the way, including Heikki Seppa, Ronald Hayes Pearson, Robert Ebendorf, and James Meyer. He learned rendering from Ivy Ross and advanced stone-setting from Alan Revere, the latter in San Francisco in 1986.
Marraccini considers his "main talent" to be "designing by parts." Starting with sketches on the blackboard, he develops concepts for new pieces and watches them "metamorphose" through metal manipulation, fabrication, casting, and stone inlay. He combines gemstones, conflict-free diamonds and recycled gold in contemporary yet classic designs that have won him awards at craft shows.
Marraccini has always worked this way, even when he had a larger crew. He starts by identifying what he wants to accomplish and then proceeds to work on it, letting chance and change guide the design. "That's the way I've designed my whole career. I can't stop designing. I can design all day long. Anything."
Charlottesville is a "sweet place," Marraccini says, and he has developed a faithful following for his collections. He has been in the business for more than thirty-five years now; and although he is fond of quoting fellow jeweler Jacob Snow—"Setting stones in metal is a bad idea"—he has found a way to keep developing and to remain thrilled by the possibilities of the creative process.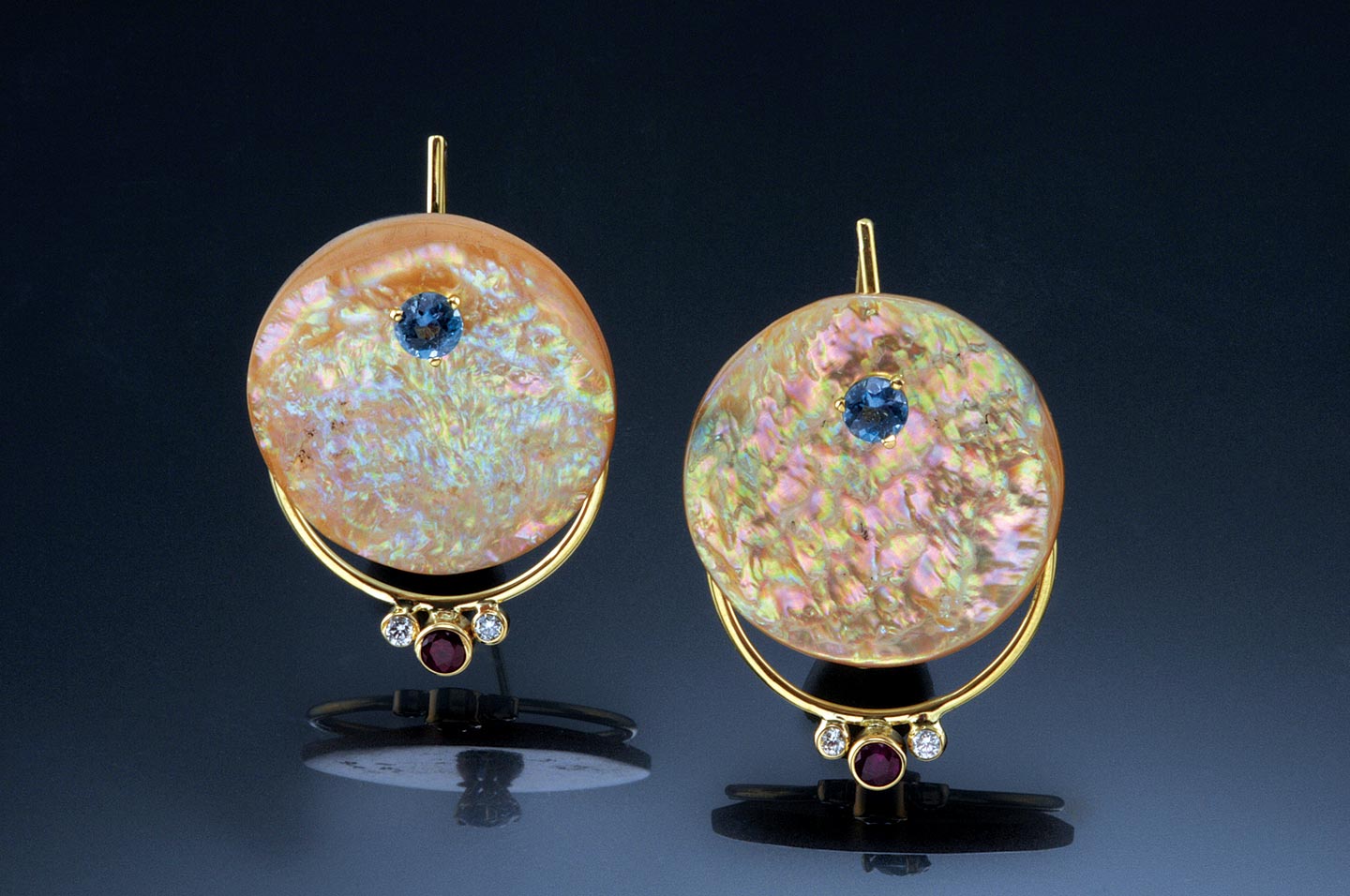 On a visit with his daughter Emily and her family in Charlottesville, Virginia, in April, Carl Little paid a visit to Lee Marraccini at his shop and studio in the city's pedestrian-friendly downtown center. Marraccini had just returned from an American Craft Council show in St. Paul, Minnesota. His belief that making jewelry should be "serious fun" for the wearer was evident in the work he shared during the interview. Little's latest book, coauthored with his brother David, is Art of Acadia, which is being published to coincide with the one hundredth anniversary of the founding of Acadia National Park in Maine.