Stones speak to Julie Shaw. Not in words, of course, but in signals and messages that are perfectly clear. The gunmetal gray hematite offers emotional protection because it repels negativity. Rose quartz stands for unconditional love and good will. Yellow-green citrine opens the heart to wonder and delight and is immune to ill will. Stones of nearly every kind have been the foundation of Shaw's jewelry for more than forty years, and she describes her lifelong attraction to stones in spiritual terms.
"Stones have an energy to them, and I like using stones that have metaphysical qualities," says Shaw. "I put stones together in a piece because I like the way they go together. But then I'll get a call from a gallery with a customer asking what the stone stands for, so I try to talk about what I know, though it's more about the person just tuning into the stone's quality because they like the jewelry. I think many people pick up on energy from certain stones."
She laughingly refers to herself as a "stone-aholic," but she might be better described as a stone whisperer. Her house is filled not only with stones for use in her jewelry, but also with mineral specimens and crystals. "Whatever town I'm in, I always find the rock shop and see what they have. When I'm on a beach I'm looking at the ground for rocks and shells. I get a little obsessive about it. Stones captivate me and take me to places in my mind that I wouldn't get to otherwise."
The other reason Shaw loves stones is that they are beautiful. Over the years she has used a treasure trove of quartz, opals, turquoise, moonstones, amethysts, lapis, coral, tourmaline, rubies, and virtually every precious and semiprecious stone you can name, and she uses them in relatively large sizes. One of her rings is typically one and a half inches across. A brooch could be up to four inches in length. A pendant might be four inches long and two inches wide. The stones that are the focal point of these pieces have nearly the same dimensions. She selects stones that throb with brilliant color, frequently designing two or three color saturated stones into a single ring or brooch. The compositions are framed in twenty-two karat gold and sterling silver, usually oxidized. The effect is invariably regal—these are head-turning pieces to be worn with self-confidence. They are also exuberant and joyful, a celebration of color and the natural world.
"In the '90s I did larger pieces, and at craft fairs women would say how much they liked the work but that they could never wear such a large piece, which was funny. Because I was standing there wearing something big and I'm five feet two, and they're telling me
how great I look in it. I always tell women, if you like it, wear it. It's an attitude. I have fun trying to get women to expand their ideas about what to wear. I want them to feel good about themselves, to feel beautiful."
Shaw's long career as a professional artist could be a template for how to find fulfillment as an artist and support yourself at the same time. Born in Detroit in 1946, she was an artistic kid who took piano, ballet and art classes before attending the Detroit Society of Arts and Crafts, where she studied painting. After a year, she headed to London to meet up with an older sister living in Europe. Soon she was enrolled in the Sir John Cass Art School in London, studying ceramics. After eight months in London she packed up for Israel, where she lived on a kibbutz. Despite the military tensions and the Arab-Israeli War of 1967, she managed to hitch-hike through the Negev Desert. Shaw eventually returned to Michigan, where she rented a studio near a foundry, which inspired her to try sculpture. She also did some photography and built herself a darkroom.
Two years later she was ready for a change. Along with art making and her love affair with stones, Shaw's life has been defined by travel and a periodic urge to move around the country, or across the globe. Her travels are motivated by curiosity and a deep interest in learning about other cultures and people. When she was almost forty she spent two months in Turkey, a place she says still inspires her. "The architecture. The food. The people. The kilims. The spice markets. The light. Everything about Turkey was wonderful and has stayed with me." She has also visited Africa, where she was deeply impressed by the artifacts of ancient Egypt. But those travels came later. In 1971 her interest was in the highly imaginative arts and social milieu that defined San Francisco in that era. She supported herself there as a window dresser for an upscale department store. "It was creative work, always changing and very immediate. I could do what I wanted to do and use lots of great colors and textures with clothes, shoes, glass, and wine bottles. I worked with very creative people. It was a happy time and I loved that job."
A chance conversation with a friend of her brother's, a man she did not even know well, pulled her back to making art. "This guy said to me, you've had all this art education, why aren't you working for yourself? Why aren't you making art?" Something clicked and she borrowed four hundred dollars from her brother and bought jewelry equipment. She had not made any jewelry since junior high, but jewelry seemed saleable, and she enjoyed it. Soon she was back in Michigan selling what she describes as "feather-and-bead" jewelry along with her paintings at mall shows. When a couple at a mall asked her to make them wedding rings, she agreed. She laughs about that now. "I had no idea how to make rings, so I went to my metals supplier and he suggested I take a metals class at a community center, which I did." She ended up making vacuum-cast silver rings for the couple, who loved them. She quit painting and focused on jewelry. "I've always liked using my hands, and once I started making jewelry I realized that I was not using my hands in the same way with painting. I like holding the tools and metal, and I like seeing the work in my hands. With jewelry, it's instant gratification, and I like instant gratification. I'm not a person who works for weeks on a piece. I know right away if I like it and if I feel good about it. If I don't like it, I scrap it."
Shaw took a soldering class and honed her skills making jewelry full time. Soon she was adding stones. The only other time she had made jewelry with stones was when she was twelve and had a volunteer job at the gift shop of the Cranbrook Institute of Science. Part of her job was to polish the rocks sold at the shop, and to select inventory from the vaults in the basement. She loved the work, and was paid in rocks. She got the idea to make pendants out of the rocks by attaching chains to them, and she talked the manager of the local dime store into displaying them for sale. She is still surprised they sold.
By the late 1970s Shaw was a regular participant at prestigious, juried craft shows on the East Coast. She was wholesaling to galleries around the country. She moved to Rhinecliff, New York, and started a production line. At one point she had six employees. "One day I realized all I was doing was directing traffic. I didn't want to do that." She downscaled her production and moved outside of Durango, Colorado. She lived in Colorado making one-of-a-kind jewelry and limited production work for twelve years. During those years Shaw apprenticed with a shaman and studied Reiki, a Japanese approach to alternative medicine. She ran a sweat lodge. Her interest in spirituality and cross-cultural philosophy has always been important. Some of her jewelry from her Colorado period has a Southwestern look, with elements of native design and traditional symbology mixed with what could easily be read as elements of Catholicism. "Periodically crosses show up in my work. I'm not religious, but I am spiritual. The crosses for me tend to be more about the four directions of the Southwestern cross, not a Christian cross."
"Whatever town I'm in, I always find the rock shop and see what they have. When I'm on a beach I'm looking at the ground for rocks and shells. I get a little obsessive about it. Stones captivate me and take me to places in my mind that I wouldn't get to otherwise."
In 2004 Shaw was lured to Paducah, Kentucky, by a generous civic program aimed at drawing artists into the community. Through the program she was able to buy a large, older home for very little money, as long as she agreed to fix it up and live there for a while. Which is exactly what she did. After supervising a major remodel, she spent the next ten years living in the home, where she also had her studio and ran a commercial gallery. "I called the gallery Aphrodite. It was a nice gallery, if I do say so myself. I sold my own work there, but also blown glass, ceramics, fiber art, and jewelry made by other artists." It was also during her time in Paducah that she took up enameling. There were certain colors and finishes she wanted that she could not achieve with stones. So she took lessons from an enamel artist and started adding enamel to her jewelry. Today, six years after she seriously started experimenting with enameling, it has become integral to her work, and it has expanded her color palette. Her work is now a harmonious, colorful mix of stone and enamel, usually in the same piece. As a painter she was drawn to color, and enameling allows her to approach jewelry with a painter's eye.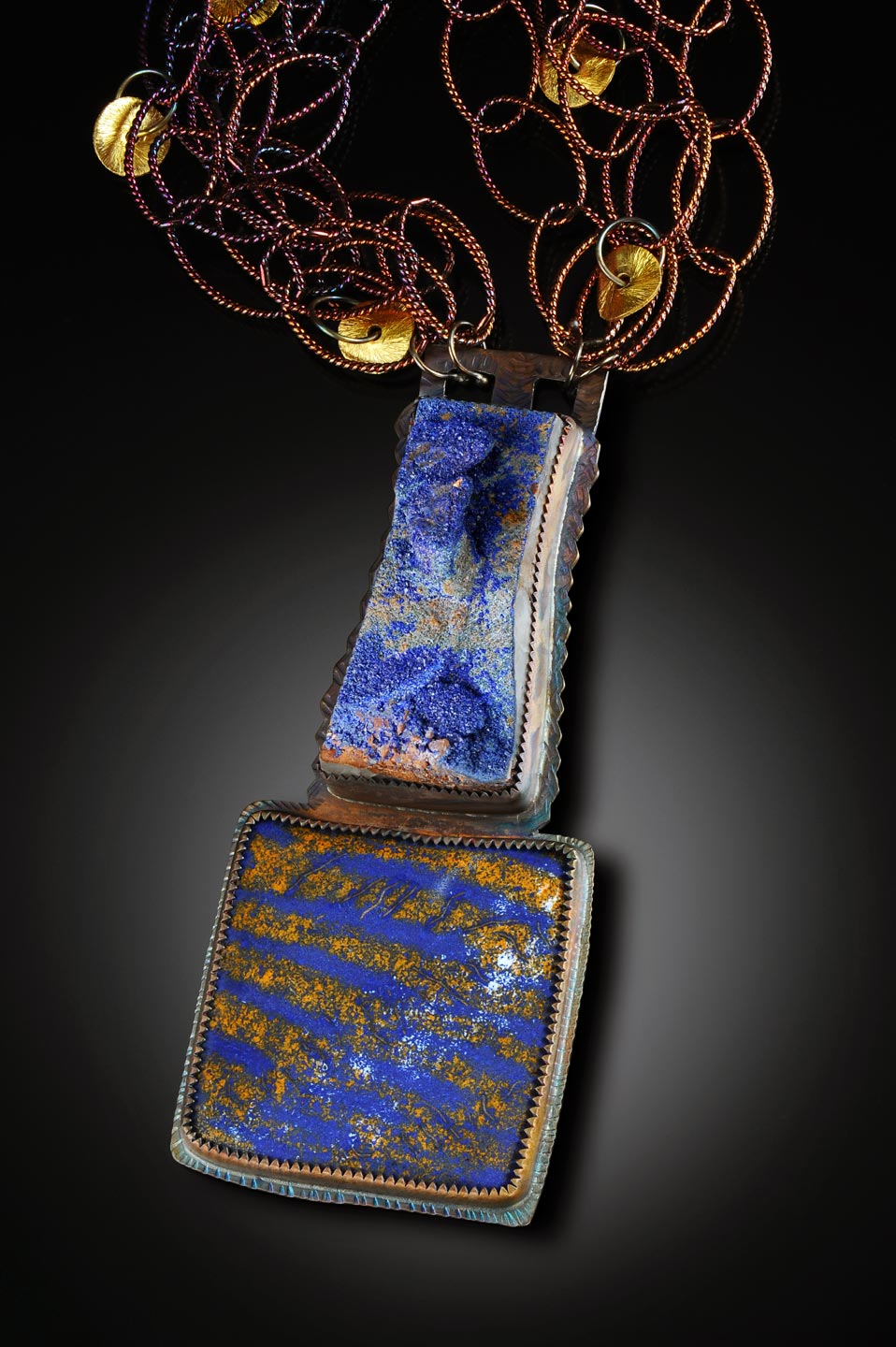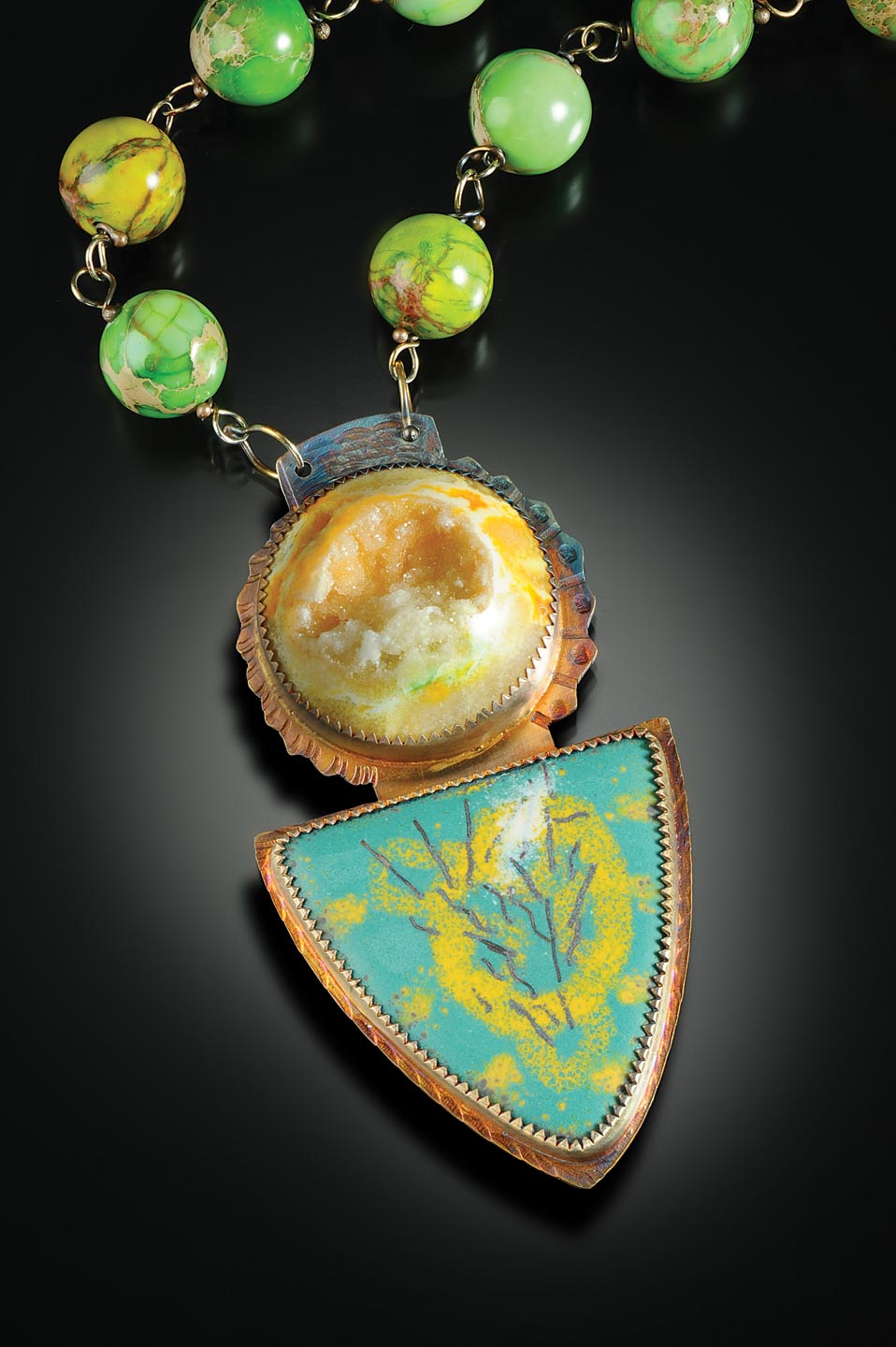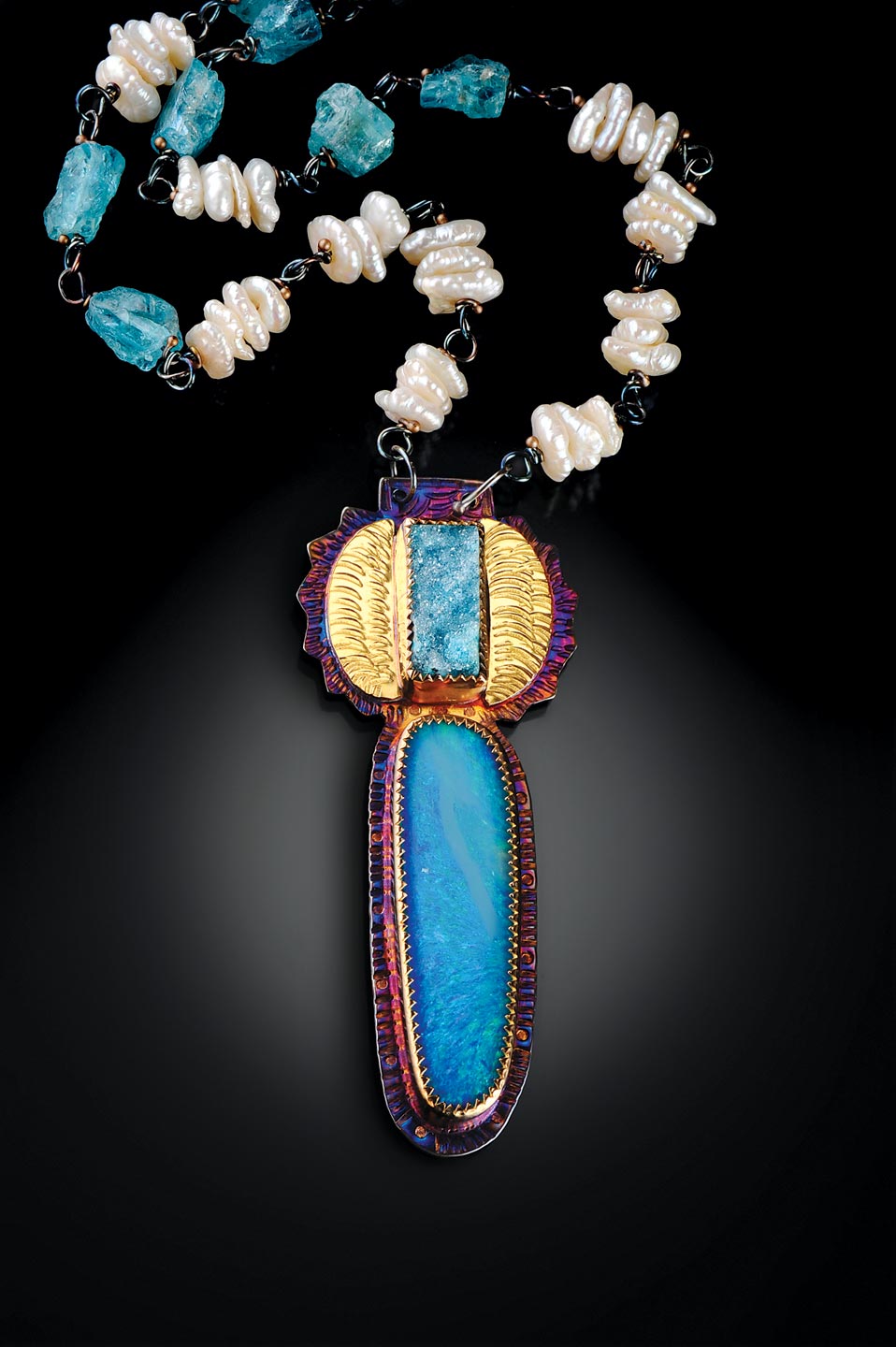 Shaw does not drag her feet when it is time to move on. In 2014 she left Paducah for Cocoa, Florida. Earlier in the year she had fallen on ice in Paducah and had broken her wrist. While healing, she made jewelry by taping her torch to her wrist. She decided she had enough of ice. She chose Cocoa for its balmy climate, but has also come to admire the natural world of Cocoa's beach and seashore. Her latest work is distinctly tropical, as though the pink, white, blue, and gold shapes of her brooches and pendants are sea creatures darting through tide pools. Her work has always been partly inspired by the flora, fauna and geography of wherever she is living at the time. "I know my work has been influenced by the sea in the last couple of years. To me, some of my brooches are like sea beings, though I don't know that you'd see anything that looks like them in the sea."
Shaw's work has sometimes touched on the narrative. After 9/11 she made jewelry showing flowers rising out of the flames of devastation. She has also made pieces in honor of Hindu gods whose spiritual qualities she admires. But her current work is abstract, despite its resemblance to brilliantly colored marine fauna. There are no heads or eyes on these creatures, though in a few brooches you might see the suggestion of tentacles or a dorsal fin.
At a time in life when many people think of slowing down, Shaw still works at least five days a week, all day, in her studio, and is "grateful that these hands have supported me all these years. In a broader sense, it makes me think of all these amazing artists who work with their hands, soul and spirit to do what they love and bring it to the public for them to glean something for themselves, whether they buy it or just look at it, or hold it in their hands. What a gift for all of us."
Robin Updike is a Seattle-based arts writer with a deep attachment to artist-made jewelry. As a former newspaper art critic she also has an interest in artists and the difficult choices they often face when it comes to their careers. For both reasons, she was pleased to have the opportunity to interview Julie Shaw, a jewelrymaker whose life as an artist is notable not only for the remarkable work she has made, but for the joyful, open-hearted way in which she has created a life wholly dedicated to art. In this issue Updike also reviews a handsome exhibition about indigo-dyed textiles at the Seattle Asian Art Museum. The exhibition is a serene reminder of why blue is such a primal color for us all.