Dependent on the material accumulations of others, museums around the world have long been recipients of the passionate predilections of collectors. A day arrives when it is time to pack up one's stuff and leave prized possessions to some established institution for, hopefully, responsible conservation. That storage issue has a history stretching over the millennia. In Britain, the Ashmolean at Oxford University, the world's oldest university museum, became in 1677 the first public museum when it received its first collection with Elias Ashmole's "cabinet of curiosities." The collection was divided between the "wonders of nature" (naturalia) and the "handworks of man" (artificialia). Here could be viewed a variety of natural life, from a salamander, a flying squirrel, shells, and birds from India, to the stuffed body of the last dodo seen in Europe. Artificialia contained agate goblets, rhinoceros horn cups, a bead abacus, Chief Powhatan's mantle (Pocahontas's father), Chinese boots. One can readily surmise that these objects were collected with a wondrous excitement that discovery inspires when encountering the formerly unknown. Significantly, while the larger purpose of the Ashmolean was to enhance preservation of knowledge, with these objects recorded and systematized; specifically it was their public display that had an equally great benefit, so the greater populace could participate and benefit. Admission was open to all, with a fee, and not restricted only to the few elite. These actions, dating from the seventeenth century, have long impacted the museum world and the cultural and social ramifications have been incalculable.
In a much more contemporaneous example, a recent exhibition at The Textile Museum at George Washington University demonstrated the importance of material gifts to a museum's identity and mission, and how in resulting exhibitions they inform and educate the larger public. In 2015 Bea Roberts, a collector from California, gifted her 284-piece Chinese minority textile and ornament collection, from Guizhou Province in Southwest China, to the museum. On her trips to this mountainous, subtropical region, Roberts quickly learned just how evanescent cultural traditions were in our swiftly changing present-day. Beguiled by the handcrafted works she found in Guizhou, she was determined to collect and preserve what she knew would "vanish" from the many cultural groups that make up Guizhou. Understanding that traditional cultures are rapidly being absorbed by larger, more dominant ones, perhaps even within a generation, has spurred many collectors to acquire sooner rather than later. (The Han account for almost ninety-two percent of the Chinese population, with fifty-five other ethnic minorities officially recognized.) Cultures that once had little contact with the "outside" world are now sometimes unrecognizable in their original form. It's the what's here today is gone tomorrow syndrome of loss.
Given a keen eye and an instinct for both the singular and the representative, Roberts collected some amazing and instructive physical examples of textiles and jewelry, primarily from the Miao. One is an astonishing Miao festival jacket from the 1950s, an embroidered tapestry of rich patterning, with figures from Miao folklore surrounded by the twelve animals of the Chinese zodiac. Practically every bit of surface is embellished with musicians, flowers, birds, and more than twenty butterflies referencing the "Butterfly Mother," the primal ancestor of the Miao people and a central focus of Guzang Festival rituals (celebrated every thirteen years, although more festivals are now annual). Dating from the 1950s, this ceremonial costume was once worn by the wife of the Guzang Festival's leader.
Textile surfaces exhibit the rich profusion of transformative iconography that permeates minority cultures—bats symbolize happiness and good fortune; hybridized silkworm dragons and fish dragons, other abstracted shapes indicate the importance of achieving a successful birth; birds are also important as protectors and divine messengers. Dress with such totemic imagery enhances the possibility of communing with ancestors or with spirits of the natural world where everything is thought to be alive and interconnected.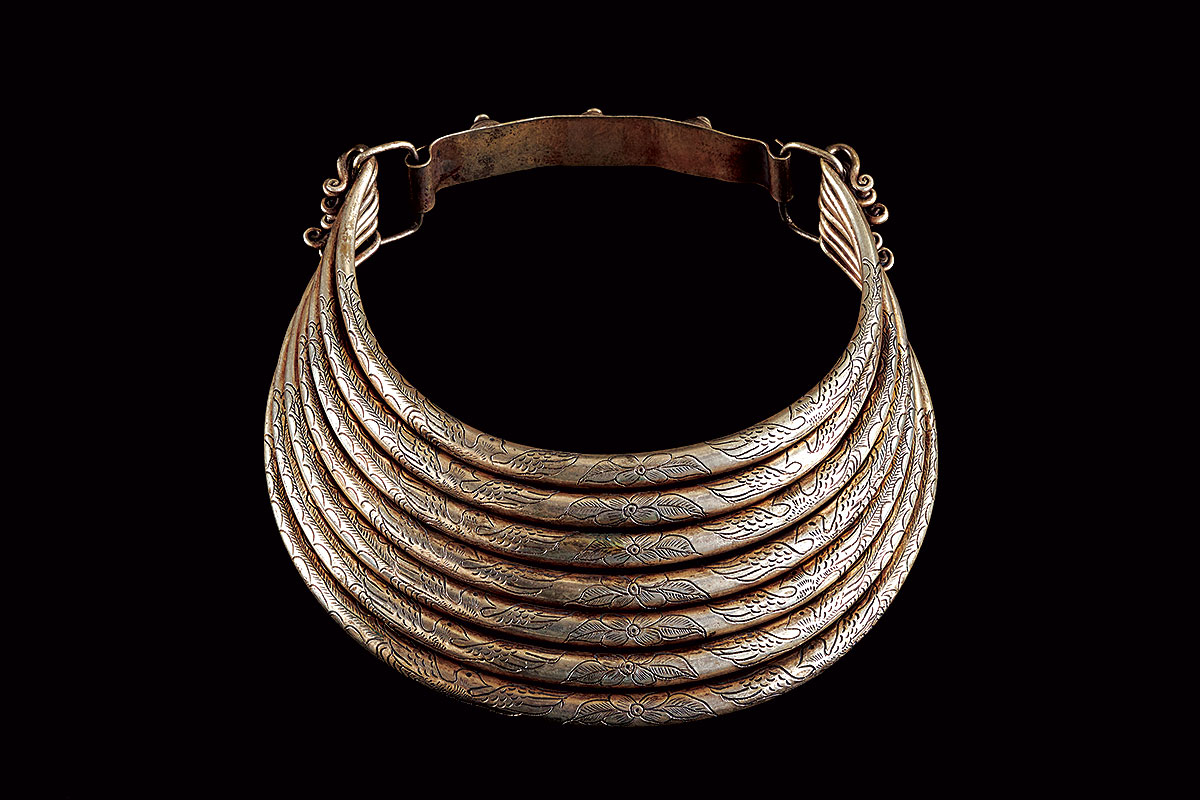 Baby carriers, intrinsically functional, are also opportunities for other potent imagery—eight-pointed stars, sunrays and octagons symbolize protective maternal deities who will attract light, warmth and energizing lifeforce to the infant. Children's hats especially incorporate symbolic motifs to safeguard the growing youngsters and they are often embroidered with auspicious motifs such as lions, fishes and butterflies. One Dong charmer is festooned with pompoms and appliquéd bulging eyes intended to trick evil spirits into thinking the child is a ferocious animal and, leaving nothing to chance, has the twelve Daoist immortals in silver alloy attached.
Trained by female family members and starting early, young girls will learn everything about her clan's textile techniques—handweaving, indigo dyeing, embroidering are among the critical skills to learn. It can take as long as five years to make a profusely decorated outfit to wear during one's wedding and the festival cycles, so it is crucial that a garment is beautiful and well made. Technical and aesthetic proficiency is closely linked to attractiveness and desirable marital outcomes. The design and making of an apron as a gift from a young woman to a young man specifies her interest and shows off her accomplishments. Worn by men as well as women, aprons memorialize Miao daily life, its landscape and flora, its folklore—one embroiderer revealed the influence of local songs on their pictorial representations: "If you only embroider and don't sing, you won't know the stories of your patterns. Someone who doesn't sing well doesn't embroider well."
Subtlety is never the point. Mastery of techniques is to be visibly demonstrated in every possible way, from a festival jacket's sturdy construction to finely embroidered (and removable) patches that decorate shoulders, sleeves and aprons (and can be passed through generations). More is more and more is highly desirable for a successful garment and similarly true for minority jewelry. Silver is preferred for its power to throw off evil or demons. While textiles are the complete purview of women, jewelry is made by men trained in metalworking who design the neckpieces, pendants, earrings, bracelets, hairpins, and festival crowns, in silver or more typically a silver alloy, that are integral to the success of a festival costume. They are as exuberantly abundant in their design as the lavishly decorated textiles. With auditory attributes bestowed by jingling metal components, nothing should stand in the way of boisterously announcing a family's wealth at something as important as the Guzang Festival in Guizhou Province.

SUGGESTED READING
Exhibition Catalog. Contributing authors Angela Sheng, Deng Qiyao, Xi Keding, Li Qianbin, Zhang Xiao, Stevan Harrell, Kate Lingley, Huang Ying Feng. Writing with Thread: Traditional Textiles of Southwest Chinese Minorities. Honolulu: University of Hawai'i Art Gallery, 2009.
Roberts, Bea. Vanishing Traditions: Textiles and Treasures from Southwest China. Davis, CA: UC Davis Design Museum, 2010.
"Vanishing Traditions: Textiles and Treasures from Southwest China" showed February 24 - July 9, 2018 at The Textile Museum in Washington, D.C. Visit their website at www.museum.gwu.edu.
Carolyn L. E. Benesh is Coeditor of Ornament and our in-house expert on contemporary wearable art. As Ornament's resident itinerant, she moves to and fro across the USA in search of inspiring craft, great experiences and, of course, excellent food. Each year she travels to Washington D.C., where Ornament gives the Excellence in Jewelry Award at the Smithsonian Craft Show, this year awarded to Biba Schutz. Her visit was a busy affair, with old friends and a plethora of clothing exhibitions filling the capital. At George Washington University's Textile Museum, Benesh had the pleasure of meandering through "Vanishing Traditions: Textiles and Treasures from Southwest China," where a concise visual commentary presented a wide range of Miao minority garments and adornment. She also writes about some of the exhibitors new to this year's International Folk Art Market in Santa Fe.