Due to the recent change in USPS postal rates, we have updated the costs for Priority Mail.
Ornament Digital Volume 39.1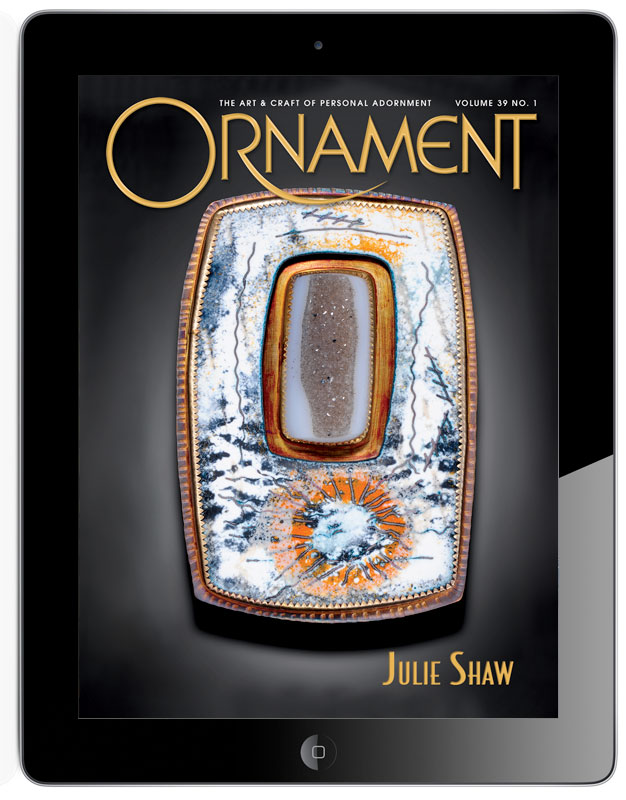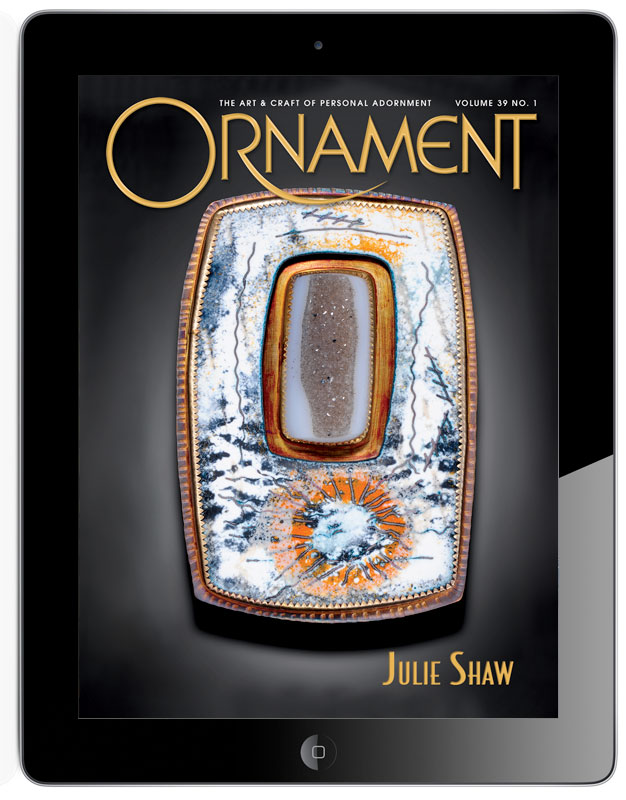 sale
Ornament Digital Volume 39.1
Julie Shaw Stone Whisperer Extraordinaire.
Reigning Men Fashion in Menswear, 1715-2015.
James Thurman and Umut Demirgüç Thurman A Wedded Aesthetic.
Lee Marraccini Hitting Jewelry's Sweet Spot.
Ethnographic Arts Mood Indigo: Textiles From Around the World.
Museum News Beijing's Ethnic Costume Museum.
Marketplace International Folk Art Market 2016.
Beadmaking Lapidary Skills & Imitations In Stone Beads.
Design Awards Saul Bell Design Award 2016.
In this issue, Robin Updike describes the exuberant jewelry of Julie Shaw, who easily combines the color, textures and metaphysical properties of stones and enamel in her wearable art. After living in many parts of the United States and working a variety of jobs, Shaw transitioned from painting to jewelry, having found a new canvas upon which to exercise her creative impulse.
Kimberly Chrisman-Campbell covers an extensive exhibition at the Los Angeles County Museum of Art on men's fashion, spanning three hundred years. Unlike women's dress, male attire is rarely the subject of major museum shows. She details both the content and the installation, offering a measured review of the show's weaknesses and strengths.
Glen R. Brown chronicles how the wife and husband of James Thurman and Umut Demirgüç Thurman team up in their jewelrymaking, drawing upon two very different approaches. They combine her enamels with his resin laminated paper, called Thurmanite®, to develop jewelry which is beyond what either could create individually. Their mutual appreciation for each other's work fuels a spontaneity necessary for authentic cooperation.
Carl Little reviews the strong jewelry lines of Lee Marraccini and his design process. Marraccini often sets bezeled stones upon a larger piece of vintage mother of pearl, or other stones upon stones. Seeking to expand his repertoire of skills, he has also started combining CAD designed elements that are cast, and united with his diverse inventory of gems.